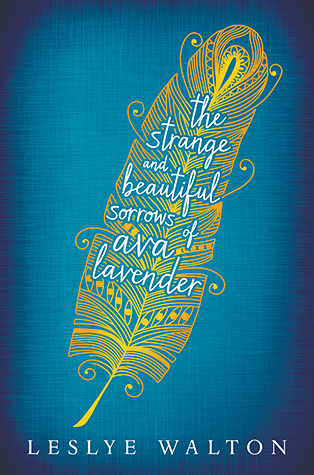 The Strange and Beautiful Sorrows of Ava Lavender by Leslye Walton
I was told repeatedly by one of my best friends, Ashley, to "read Ava Lavender." "Read Ava Lavender!" "READ AVA LAVENDER!" and I am beyond glad that I did.
Initially I thought about posting a one-liner review and simply saying, "This book is the single most beautiful work of art I have, and possibly will ever know." or something like, "Three words come to mind after reading The Strange and Beautiful Sorrows of Ava Lavender, beautiful, masterpiece and melancholy." But there is so much to be said about this story that my brain can't process it all without sounding lovesick. I fell in love with Ava, and her family. Undoubtedly, you would too.
The book is not entirely about Ava, it starts off with the sorrows of her grandmother, Emilienne and her own strange and beautiful life. Her sisters who tear their own hearts out, turn into canaries and a brother who is more beautiful than the girls. Later on Emilienne has a daughter of her own, Vivian, who of course, too has strange and beautiful sorrows, such as heartbreak, which can be one of the most beautiful of sorrows. And then comes Ava. Ava's ancestors were in fact odd and peculiar what with having a canary as a great aunt and the ghosts of her grandmother's siblings quietly hanging about the house but never was there one born with wings as Ava was. In this beautiful tell of confinement and freedom, love and loss, I found myself really feeling for the characters and sympathizing with them, happy for them and wanting to avenge them when they weren't treated fairly. I'd say that author Leslye Walton succeeded in her endeavors as an author quite well. The book was extremely well written and very poetic. For a first time author it seemed like she really knew what she was doing.
I experienced a lot of emotions while reading this book! I was shipping and hating and loving characters! Haha!
Two scenes in particular stick out for me in this area. They were violent and just horrible. Bodily mutilation.
There isn't much, a few times sex is mentioned but never in detail.
There were curse words used throughout. 2 religious profanities, 1 f-word and one or two of "hell" and "damn"
Suicide is involved in the book as Emilienne's sister Margaux takes her own live and the ending of the book in unclear if it is some type of metaphor for suicide or literal. If you read the book you'll see what I mean.
Over all I fell in love with this book. It's one of my favorites now and was so beautifully written. The only thing I didn't like was the use of the strong language, which seemed out of place for such a beautiful book.